Marketing Campaign Planner & Ads Tracker
Boost your marketing with our Campaign Tracker.
Level up your marketing game with our all-inclusive Marketing Campaign Tracker. This Excel template, doubling as a potent Digital Marketing Planner, enables you to effortlessly strategize, track, and fine-tune your marketing campaigns.
Keep your marketing objectives on track and organized with our adaptable Marketing Planner. Smoothly chart and implement your marketing strategy, monitor your advancement, and gauge your accomplishments using our user-friendly Excel template.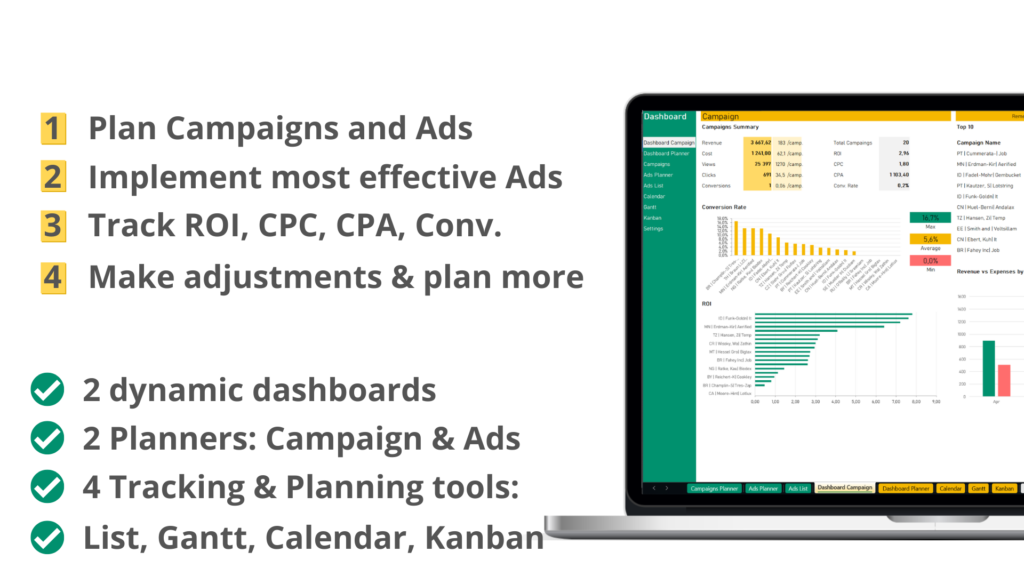 Digital Marketing Planner | Dynamic Dashboard
⚡ Key features ⚡
1️⃣ Streamline your Marketing Campaign Tracking: Easily oversee and assess the effectiveness of your marketing campaigns from a central hub.
2️⃣ Social Media Masterplan: Devise and oversee your social media content and campaigns for maximal engagement and brand exposure.
3️⃣ Conversion Rate Analysis: Monitor and scrutinize conversion rates for optimal marketing refinement and improved ROI.
4️⃣ Tailored Template: Customize the template to suit your specific marketing needs, adding or adjusting sections as necessary.
5️⃣ Harness Data Insights: Tap into the potential of data with user-friendly charts and graphs, gaining invaluable insights for well-informed marketing decisions.
6️⃣ Craft Digital Marketing Strategies: Strategically blueprint and execute your digital marketing endeavors, ensuring alignment with your overarching business objectives.
Marketing Planner to Streamline Your Marketing Efforts
Achieve marketing excellence and enhance your business growth with our Digital Marketing Planner. Designed for marketers, entrepreneurs, and business owners, this Excel template provides a comprehensive solution to streamline your marketing efforts and drive exceptional results.
Don't miss out on this opportunity to supercharge your marketing strategy. Get our Marketing Campaign Tracker today and experience the difference it can make in your marketing success!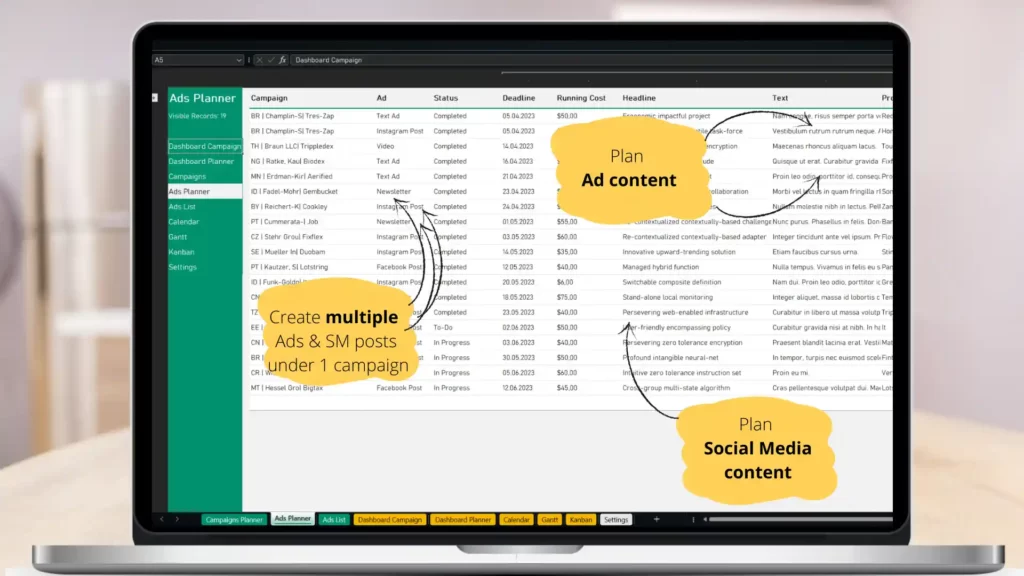 ⚙️ Compatibility ⚙️
Our Excel template is compatible with ✅Google Sheets
⚡⚡⚡
Do you need an Excel version? Check our Listing:
Marketing Planner Excel version: Excel version of Marketing Planner
⚡⚡⚡