⚡Real Estate CRM | Excel Spreadsheet⚡
Enhance your real estate endeavors using our cutting-edge Realtor Spreadsheet CRM.
Supercharge your real estate business with our comprehensive Realtor CRM in Excel. Our Estate Spreadsheet is designed to revolutionize your operations, providing you with a powerful toolkit for client tracking, sales pipeline management, and lead organization. With its dynamic dashboard and reports, customizable features, and intuitive interface, our Realtor Template empowers you to streamline your processes and maximize your productivity.
✅Works on Windows only + Excel 365, 2013, 2016, 2019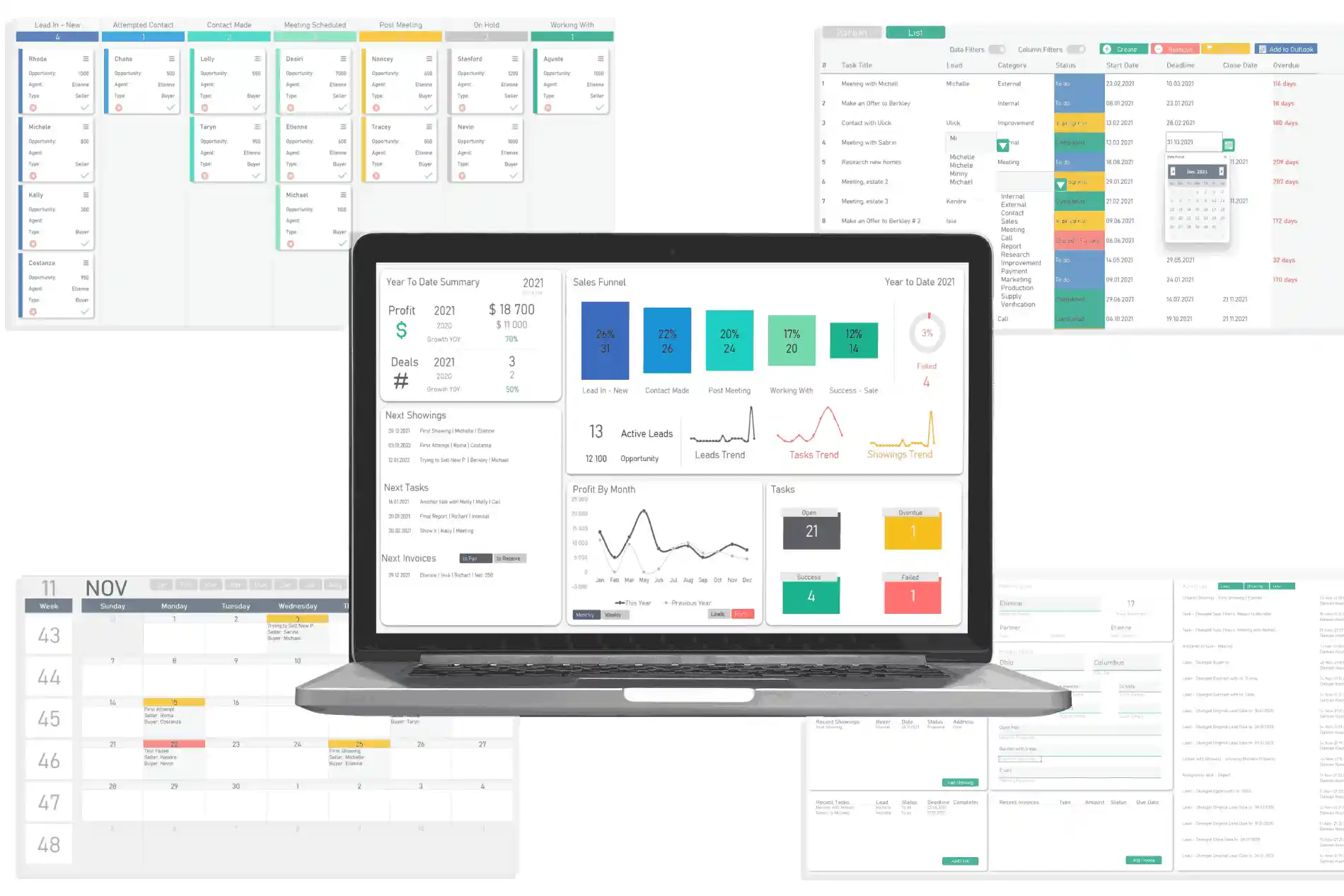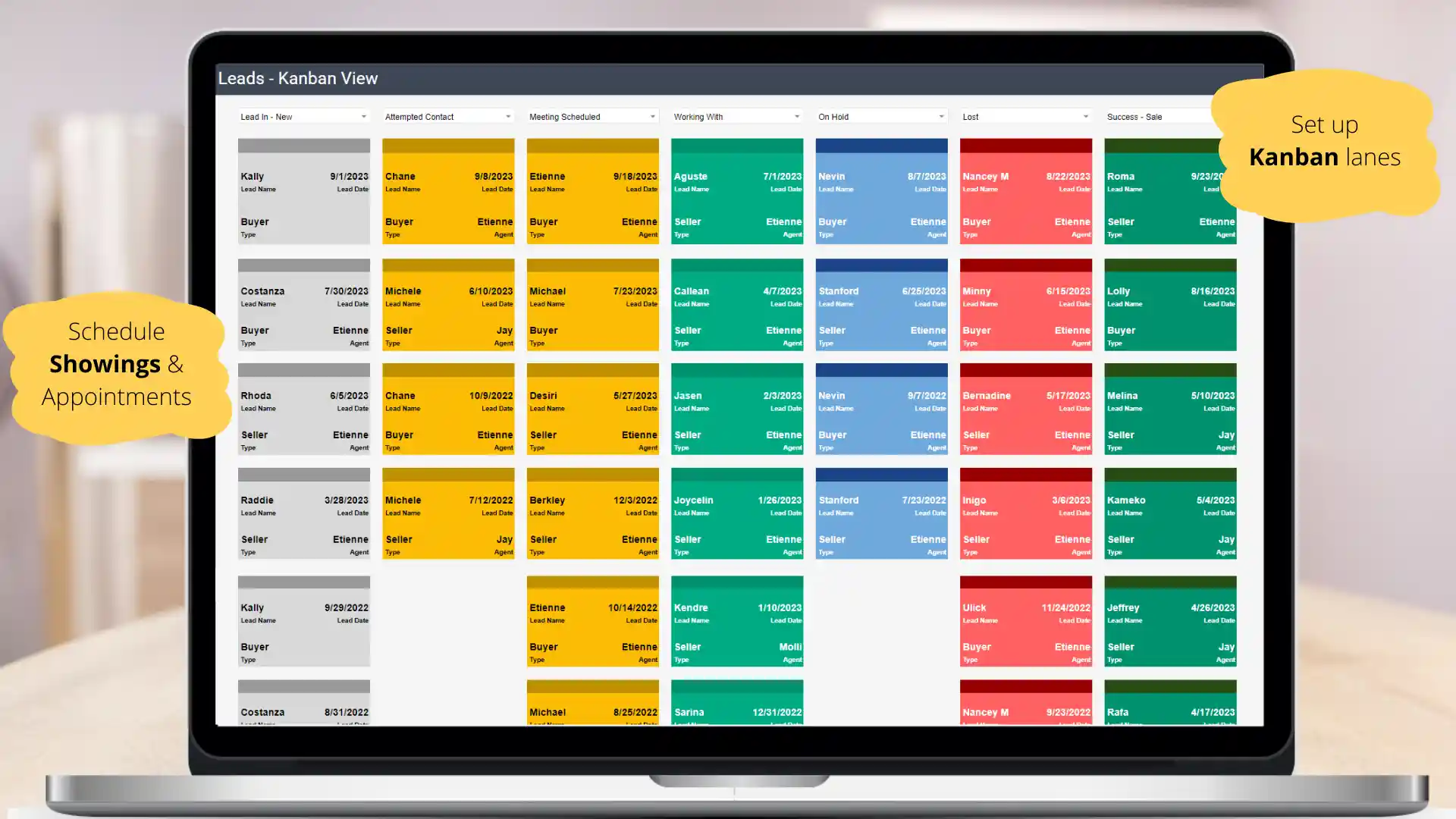 Realtor Spreadsheet | Dynamic Dashboard
Key Features:

✅ Streamlined Client Database
✅ Sales Pipeline Management
✅ Dynamic Dashboard and Reports:
✅ Task Management
✅ Customizable Realtor Template
Our Realtor Spreadsheet offers an array of advanced features to enhance your real estate operations.
---
✅Dynamic Dashboard & Reports
Stay on top of your business with a visually appealing and data-rich dashboard. Gain valuable insights into year-to-date sales, growth trends, sales funnel, active leads, to-do tasks, and profits.
✅Showings Planner
Effortlessly schedule and manage property showings with the timeline (Gantt view) and calendar view. Sync with your Outlook calendar for seamless coordination.
✅Leads, Deals (Sellers & Buyers)
Utilize advanced data filtering, details view, and sales funnel staging to effectively manage your leads and deals. Customize the table view, auto-fit to your monitor, and enjoy full-screen mode for an immersive experience. The floating sidebar menu ensures easy navigation, while lead linking facilitates organization and tracking.
✅Realtors Details View
Access all relevant information in one place, easily browse related records and make quick edits. Stay updated with the activity log to track progress and interactions.
✅Task Management
Create action plans, assign tasks to leads, and track flow statuses. Visualize tasks and leads with the Kanban view and receive Outlook notifications to stay on top of your workflow.
✅Referrals & Invoicing
Generate insightful reports, automate email communication, and enjoy dedicated support for smooth operations. Customize categories and statuses to fit your unique needs. Manage tasks and leads efficiently with the Kanban view.
✅Working with Lead & Deal
Take control of your real estate business like never before. Our Realtor CRM empowers you to streamline your processes, strengthen client relationships, and drive bu
siness growth. Compatible with Google Sheets, our Real Estate Template ensures seamless accessibility and collaboration across devices. Elevate your real estate game with our Realtor CRM and unlock your full potential today!
---
Looking for Customer Tracker in Excel
Check our Sales CRM Tracking Spreadsheet in Excel
➤ The spreadsheet includes an Invoice Tracker, Estimate Template, Movable Kanban Tiles, Task Management with Time Tracking, Profit and Loss Statement, Sales Sensitivity Analysis, and much more!
Compatible: Windows OS, Excel 2013, 2016, 2019, 365 (Excel with macros)