Small Business Bundle Spreadsheet
Employee Management (HR)
This spreadsheet is a great solution for small businesses, it covers almost everything related to staff management and a little task management: Employee List, Tasks, Contracts, Performance Review, Attendance, and PlannerPayroll. The sheet was prepared to manage HR processes, so the primary function of the file is team management. You can do this by evaluating its performance as well as assignments.
More about this spreadsheet here [show HR spreadsheet]

Sales Tracking Spreadsheet
Almost every aspect of a salesperson's job can be tracked, analyzed, quantified, and measured. To automate and help you with that, we've created sales tracking spreadsheet.
How will this product help you? Just follow these simple steps and the worksheet will do the rest for you.
 Identify your capabilities and then set Sales Targets
Set stages that each lead would fall into (Settings tab)
Add your first opportunity/deal.
Manage your deals using various metrics and flexible labels
Track your Performance in the Overview sheet & KPI sheet
More about this spreadsheet here [show sales tracking sheet]

Payroll Calculator + Pay Stub for Small Business
There are 2 types of spreadsheets: weekly and monthly. Both sheets contain tables in which you can register regular work hours, overtime, and sick/vacation hours. Moreover, for each employee, you can set an overtime rate and deductions. As a result, the spreadsheet calculates for you GrossPay, Net Pay, and Taxes.
With the Payroll spreadsheet you can handle:
Regular & Overtime hours: Overtime hours typically begin after an employee works 40 hours a week. Overtime pay is one-and-a-half times the normal rate of pay. However, you can set overtime hours and overtime rates.
Taxes: Our spreadsheet handle taxes such as State Tax, Federal Income, Social Security, Medicare.
Deductions: Any money you subtract from an employee's total wages.
More about this spreadsheet here [show payroll sheet]
Warehouse Inventory Management
Tracking warehouse KPIs lets you monitor the efficiency of warehouse processes and take corrective measures to increase productivity and asset utilization. The result is continuous operational improvement and increased customer satisfaction.
Also, use Economic Order Quantity to automate your work, and track most important inventory KPIs:  Inventory Turnover, Receiving Time, Order Lead Time, Picking Accuracy, Back Order Rate

More about this spreadsheet here [show Inventory Spreadsheet]
Profit-Loss Template (P&L)
Plan smart, stay ahead of your competition
The profit and loss template in a new & fresh look.
Plan and track your Revenue, Cost, Cashflow, and ROI with 2 input sheets, full Profit-Loss Statement, and Dashboard.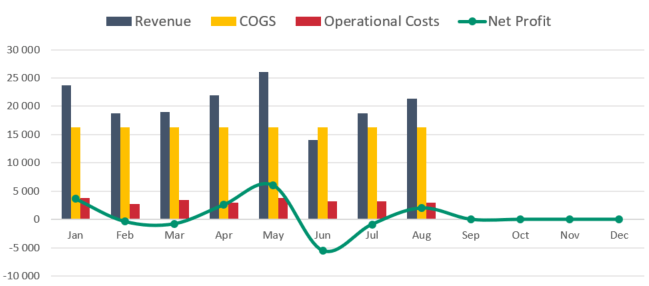 More about this spreadsheet here [show P&L Spreadsheet]
Excel Gantt Chart Timeline
Get the full picture with Gantt timeline (also called Project Charts) give you or your project manager an overview of work required, done, as well as, who's working on, and when it should be completed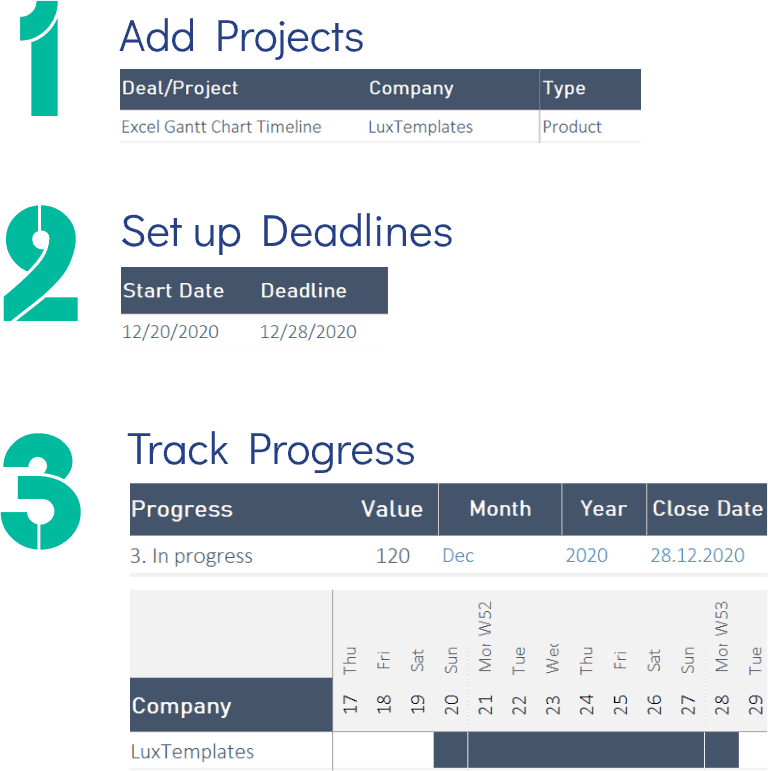 Compatible with
Excel 2013, 2016, 2019, 365
Contains
Excel Spreadsheets (xlsx) + sample data