⚡ Excel CRM Template – Spreadsheet to track your sales ⚡
Sales Tracker – Manage your deals like a pro
🍃The Excel CRM Sales Spreadsheet is a unique combination of an Excel spreadsheet and an app – edit records directly in the table as well as in the detail view.
🍃Speed up your work with drop-down lists with search, date picker, and filter panels.
---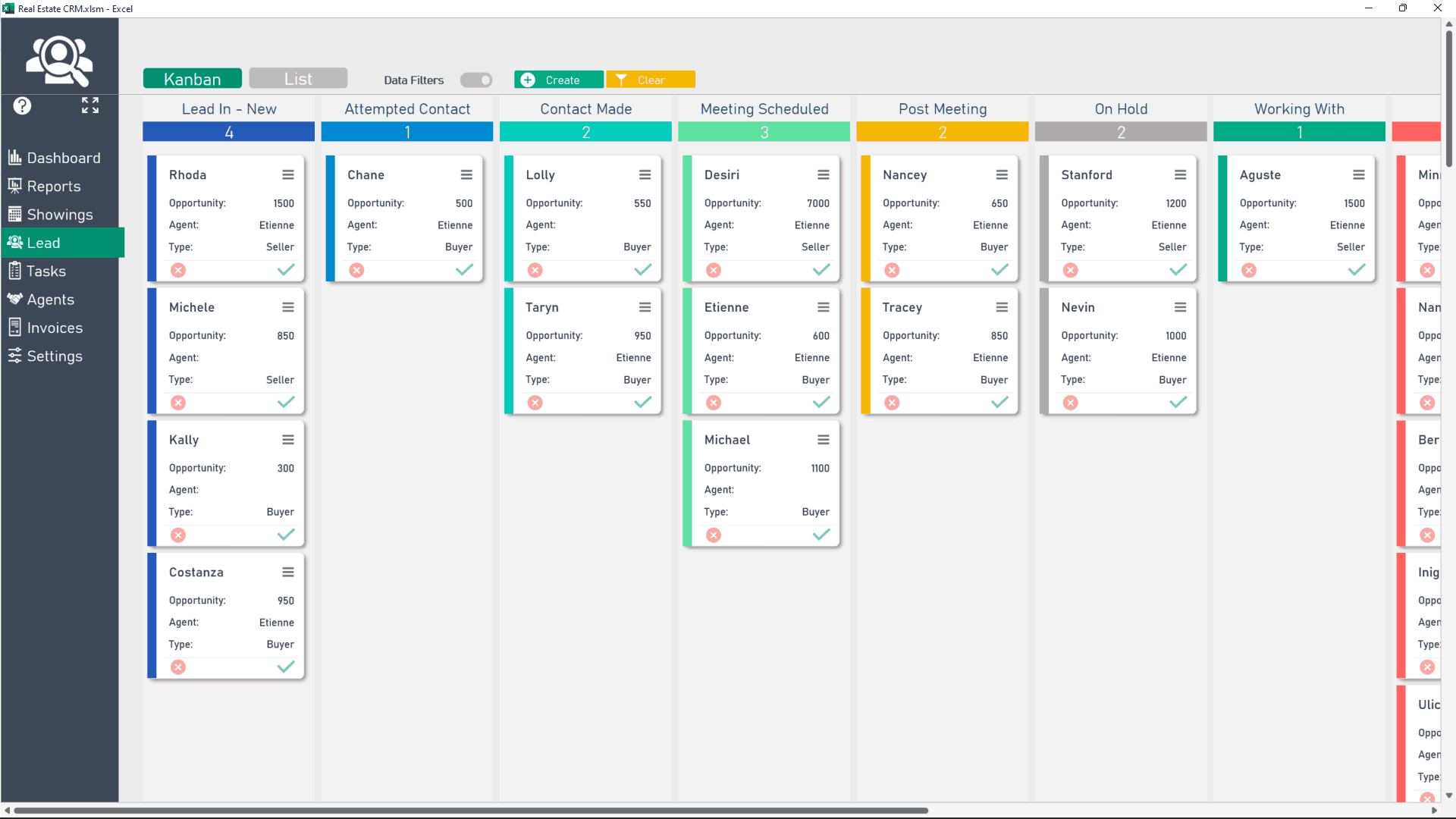 Kanban Board – Move your business forward with drag & drop tiles
Our Kanban is created without formulas, which makes it faster and more efficient than the Kanban boards created in spreadsheets available on the market.
The moveable tiles make the Sales CRM Spreadsheet a unique and powerful tool.
---
CRM Software with Dashboard & Income Statement
🍃Keep track of the work you do, sales funnel, expenses, profit, next deals, tasks & invoices.
🍃Still not enough? Sales CRM also includes a profit and loss statement for the last 3 years and the projected 3 years. On the same sheet, sensitivity analysis helps you with budgeting.
🍃Review the performance of your project, direct sales, or e-commerce business with Sales Analysis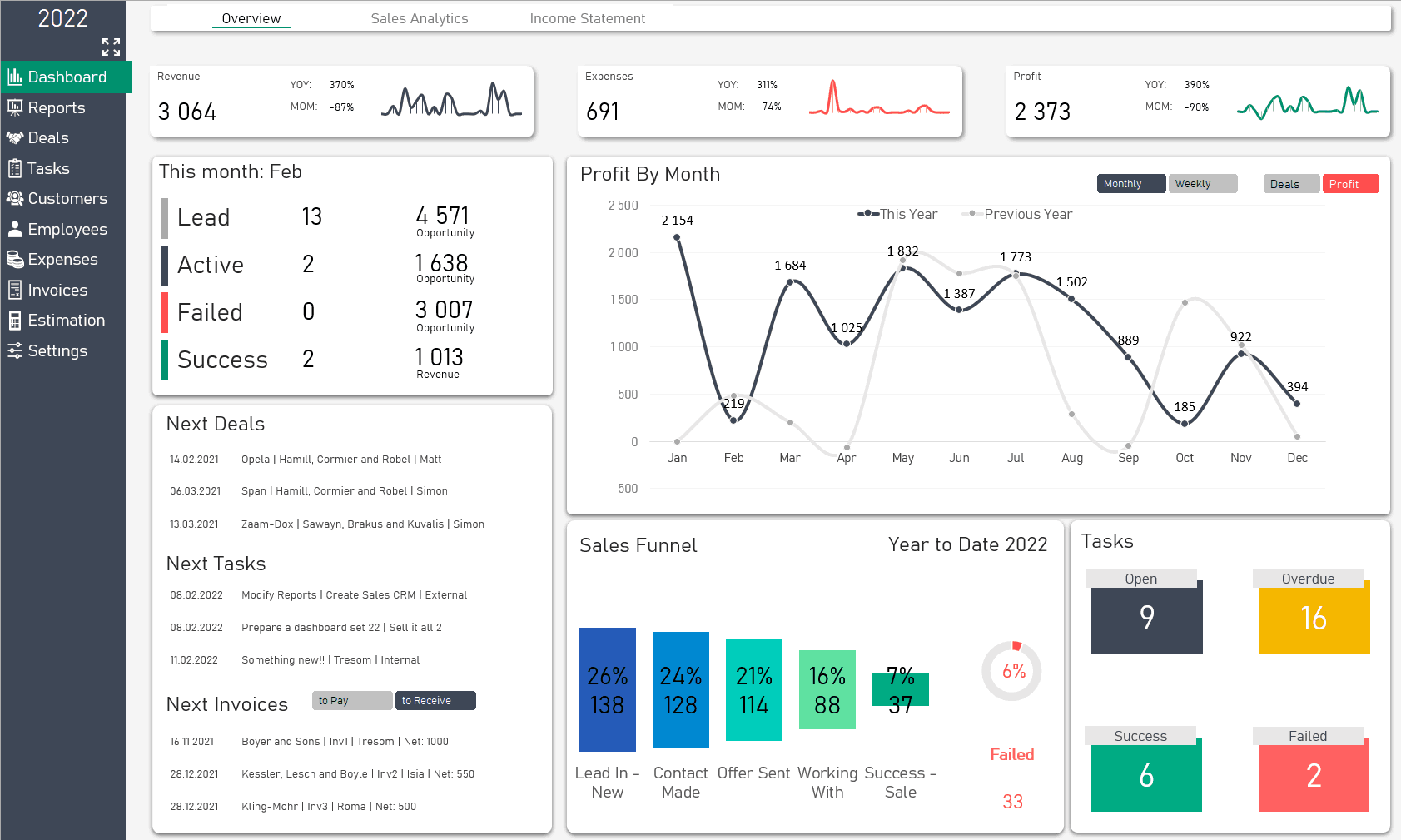 ---
Task Management & Time Tracker
Best CRM software should include task management and time tracking and workload planning. That is why we have included these solutions in our Sales CRM
The sales tracking spreadsheet make customer service easier. You can quickly create tasks, assign them to people, link them to a customer and project, or use the Kanban board.
A special view for tasks allows to track time in the background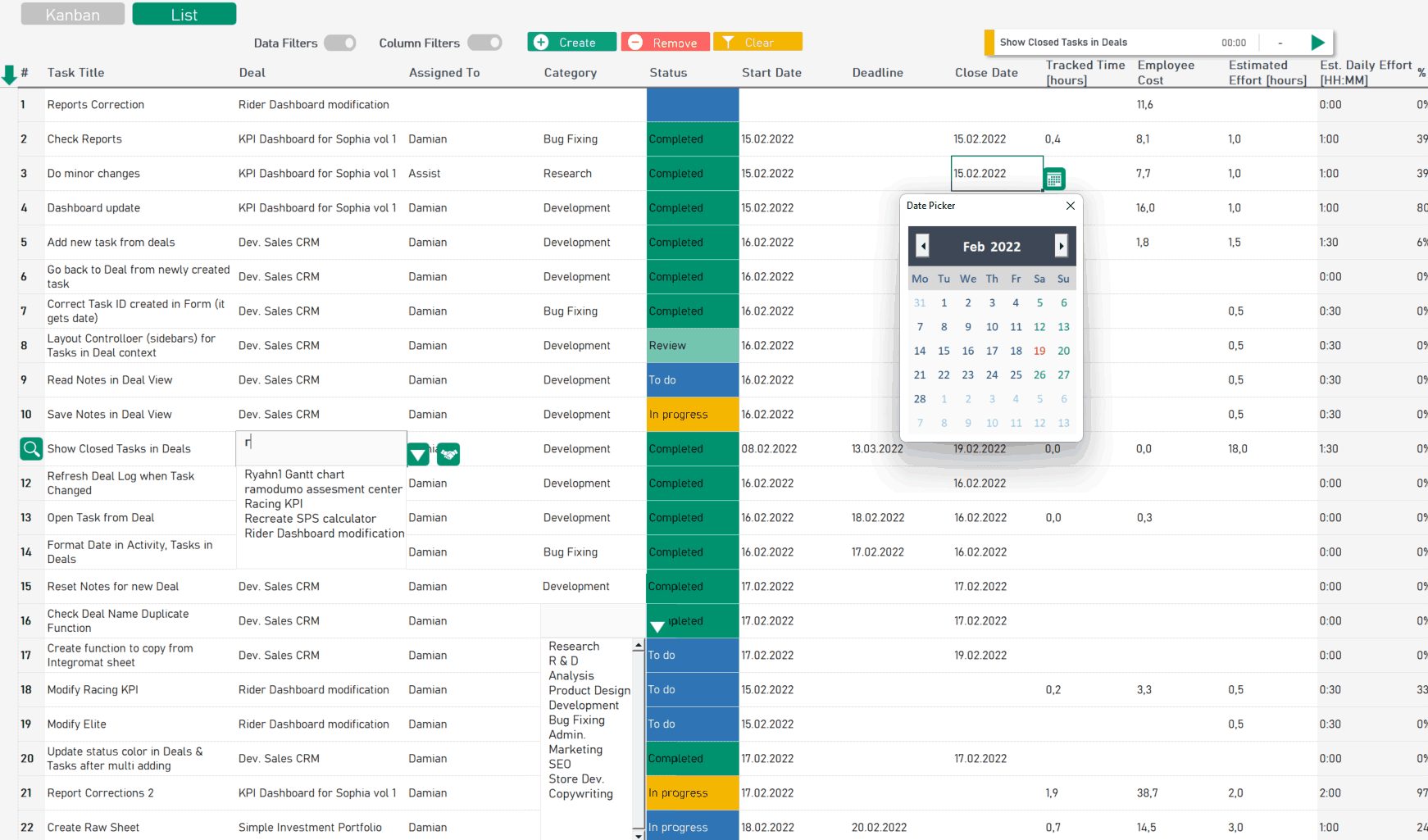 ---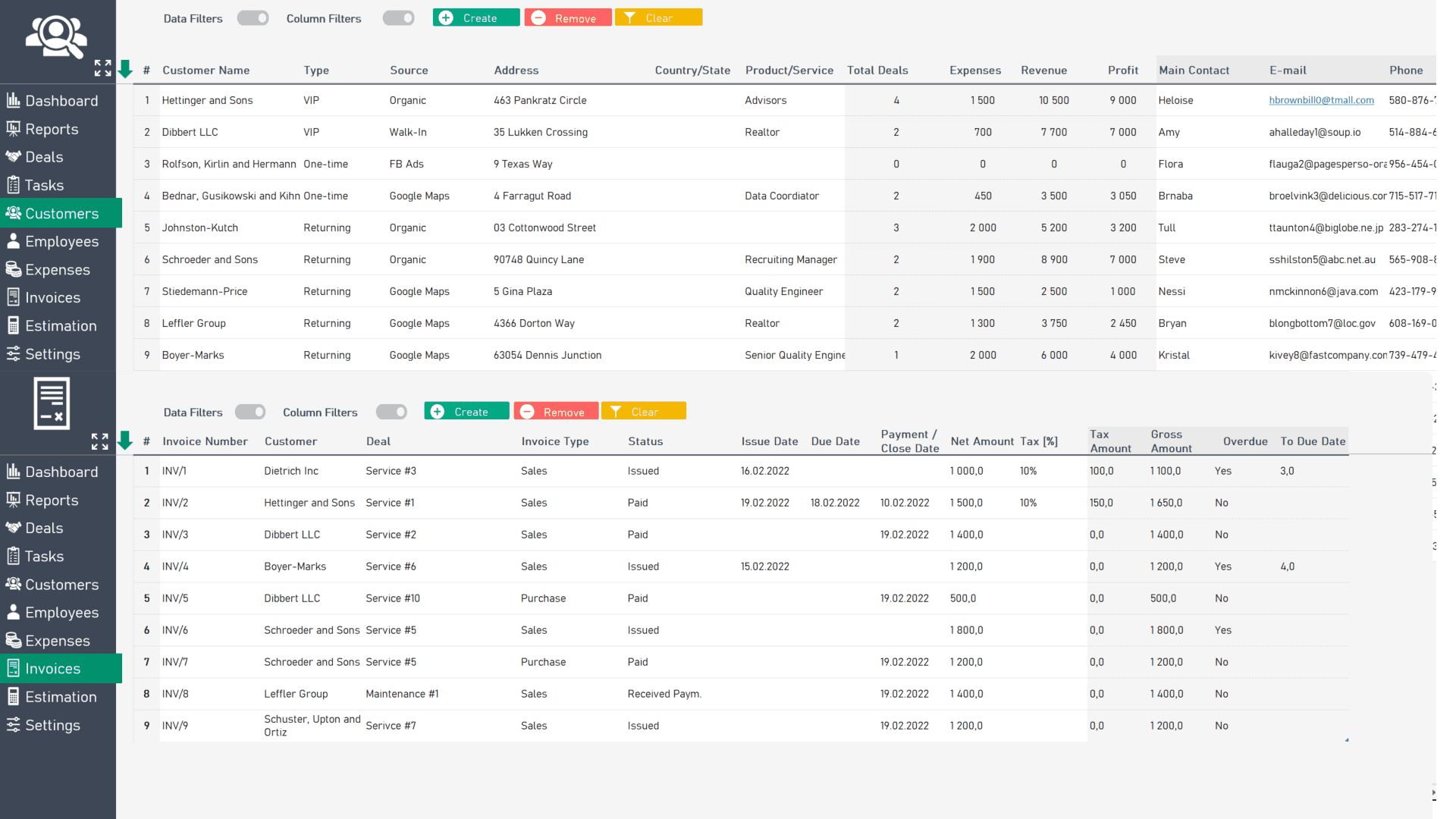 Customers & Invoicing with Bill Statement in Excel CRM Sheet
The customer table includes the status of the lead (e.g., new lead, returning customer, VIP customer, etc.), basic information such as address, and primary contact details.
In addition to creating and tracking sales and expense invoices, generate an invoice statement for a selected customer with a single click.
Track when payments are due to avoid getting paid late or overdue.
---
Expense Tracker & Employee Workload Planner
The key to success is controlling your expenses. That's why this CRM template has an expense tracker that allows you to create your own cost structure – set up groups and then assign categories to them.
Workload Planner helps you get the right person for the job. Color coding of available work time will help you delegate tasks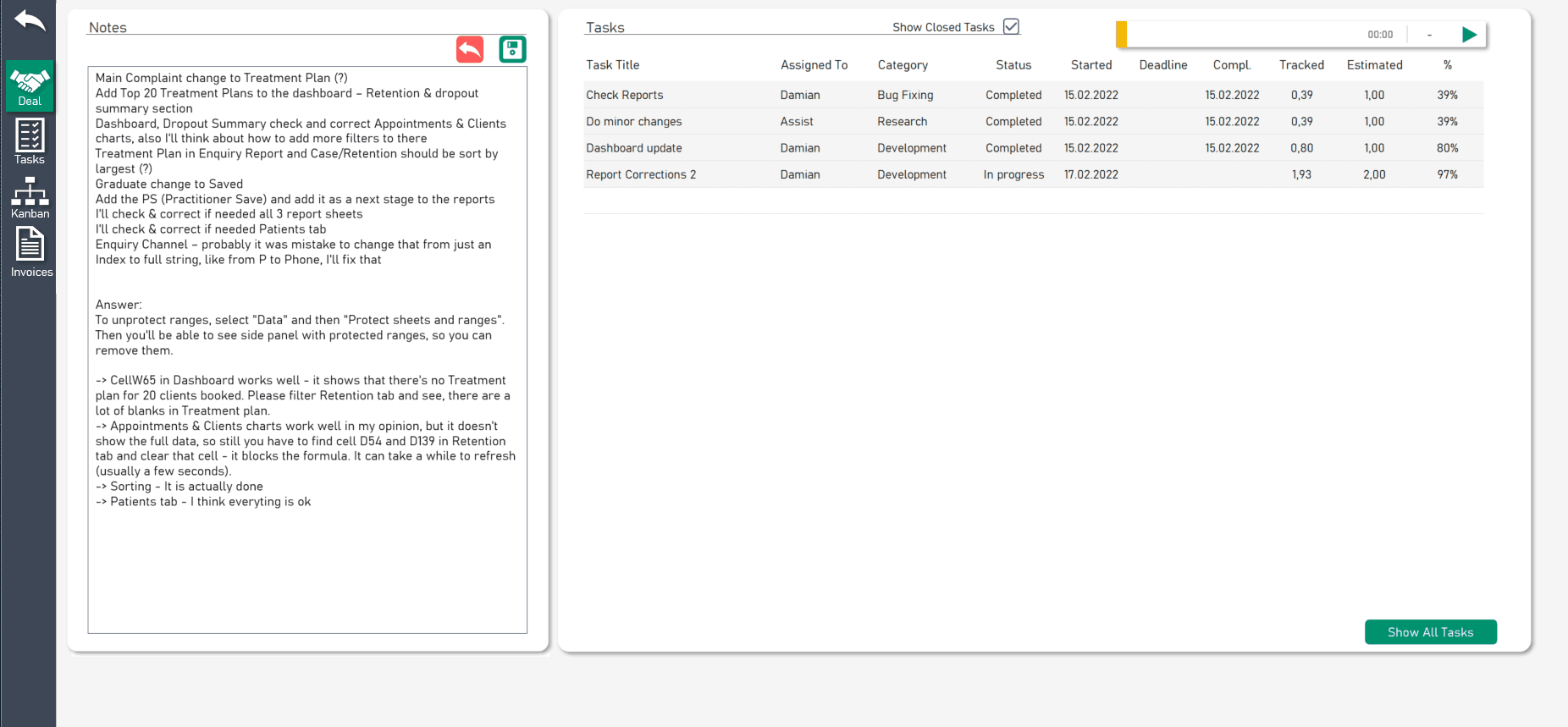 ---
Requirements
Client Tracker – Deals & Tracker

Client Tracker – Deals & Tracker

Some of these functions have been created using VBA (macros). This is the password-protected intellectual property of LuxTemplates.