Why Profit Loss Statement is so important?
Profit Loss Template tells you how much profit you're making, or losing. Use this tool to develop sales targets and an appropriate price for your goods or services.
A P&L statement is one of the three types of financial statements prepared by companies (P&L, Balance Sheet, Cash Flow).
The purpose of that statement is to show a company's revenues and expenditures over a fiscal year. This information is important for investors and analysts to assess the profitability of the company, often combined with insights from the other two financial statements.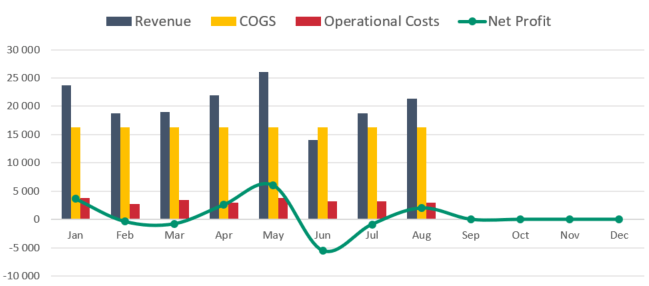 Pre-made Expense Categories
To make your work easier, there's a template with ready-made categories. In the costs tab, there are 6 cost categories at your disposal, each with 5 items. It gives you 60 different cost items in total to use, each can be modified by you.
Marketing

Agency
Adwords
Facebook Ads

Infrastructure
General & Admin

Supplies Operation Taxes
Office

R&D
Human Resources

Sales
Admin
Recruiters
QA
Product Development

Production
As if that was not enough, each of the above costs can be marked as COGS (Cost of Goods Sold) – an important factor in P&L Statement.
If you'd like to manage you business better, try our CRM System 
Full Profit-Loss Statement
Ok, you've entered your income and expenses, but what next?
You have at your disposal P&L Statement for the whole year, broken down by months.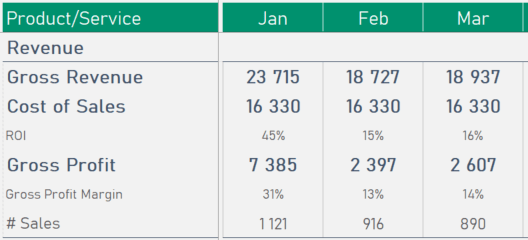 In addition to the standard Gross Revenue, Gros Profit, and Cost of Sales, you will see ROI and Gross Profit Margin. Margin is also visible for Operational Costs and EBIT.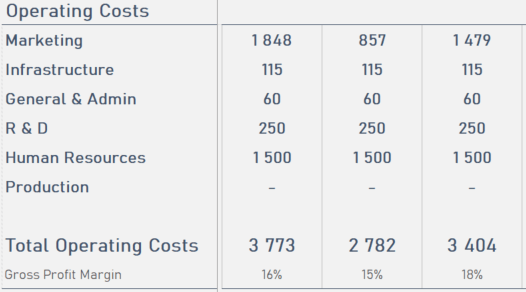 This part cannot miss Cash flow (Income – Expenses) as well as a summary for Total Net Profit and Total Balance

Dashboard – What if Analysis
The last, but not least, is the dashboard. This is where you will follow the condition of your business, check when and where you sell less, what pulls it down.

Profits, costs, ROI, everything is fine, but what if I have to increase my costs? Then what about the price? Sales?
We have What-If-Analysis.
Make percentage changes in sales volume, price, and costs to see what your projected sales are.
Plan smart, stay ahead of your competition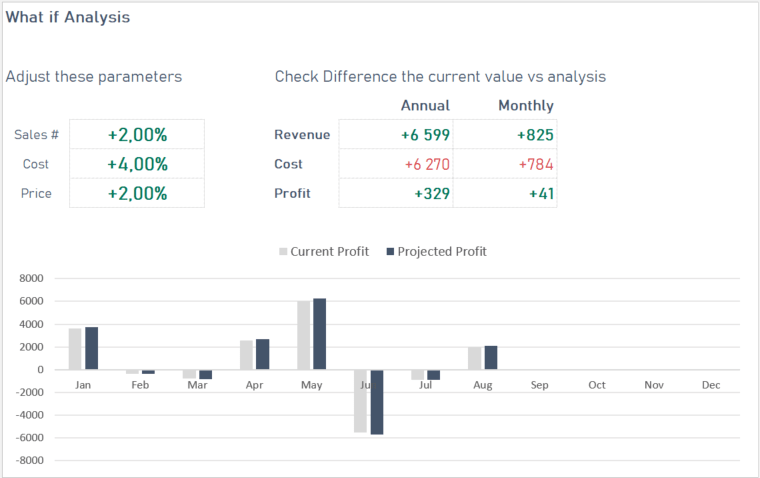 Content:
Sample data
Excel Spreadsheet compatible with Excel 2010, 2013, 2016, 2019, 365