Customer Relationship Management Lite + Invoice Tracker
Can today's business run without CRM? Customer Relationship Management can be a strategy or simply actions aimed at supporting sales, marketing, and other processes, where the overriding goal is to focus on the customer's needs.
We have created a product for you to organize your Contacts with an Excel template, product is based on the latest trends related to CRM. The Customer Lead sheet supports your sales, tracks support your deals in a more effective way
Best for:
Sole proprietorship
Sales teams
Sales Representative
Small companies
Main features:
Reminders about key activities
Customer Relations Management (CRM)
Checking and tracking payments – invoices
Invoice template ready to print
Sales support
Deal analyzer
Work automation
Analytical Dashboard
Template without VBA code/scripts
Analysis of failures and successes
Customer list templates
Customer lead sheet
Deal database
Transparent data structure
Modern and clear design.
Secure payment (PayPal watches over transactions)
Instant Download
No usage fees
A fully editable file (Premium & Enterprise version)
How to track sales with Excel template?
The spreadsheet consists of 4 main modules automating your work.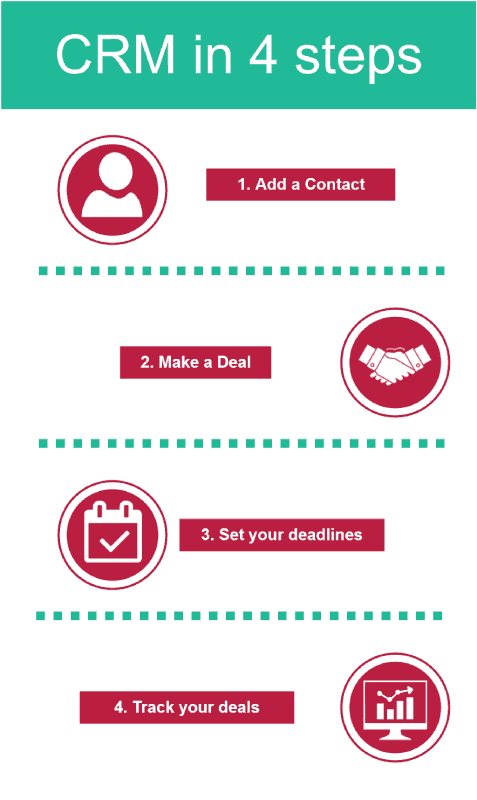 My CRM:
The Dashboard, as the most important part of a Customer lead Spreadsheet, creates value for you. It presents the key actions that should be taken to make Deals and strengthen the relationship with the customers.
Invoice verification:
The functionality allowing you to track invoices sent to customers. Simply add invoices to the deals records, this solution helps you to manage your business more efficiently. Controlling invoices is done by saving the most important invoice information and determining the status that will remind you of the due date. It also contains an invoice template partly filled and ready to print/create pdf!
If you want to use CRM product without invoices, Click here.
Summary:
An analytical dashboard showing sales and a handful of useful information. Includes a sales funnel in order to support you in controlling the sales process, and finally presents the progress of the sales. The next tables inform you about the contractors, on which we should focus more. The dashboard offers verification of unsuccessful sales, and also allows you to add your own custom CRM reports.
Contact list:
In this part, you will place your contractors, notes, and manage appointments. It is a synthetic table that can be easily adapted to your needs.
Deals:
The core of your company's sales. To control efficiently your budget, you will write down in this sheet all deals, both won, and lost. The sheet helps you find out when each deal must be completed, check the progress and arrangements. It is a treasury of knowledge about your sales activities, why some deals failed, and what to do to increase the sales.
How to use CRM?
Provide your Data
In the Company and Main contact section, you have to add the Name (of your customer or contractor) at least.
The Events section is the heart of CRM.
There you can record when you contacted your client first and last time as also which day you have arranged the meeting. Here they are 2 auto-update columns: "Contact in 2 days" and "Deals value". Deals value is the sum of all deals with selected customers.
Now you can start your work and make some deal
First, choose your Customer from the drop-down list- Contacts sheet is the source.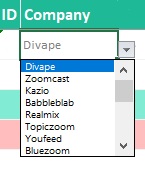 Then add Deals info, Deals Value and current progress.

and finally set your deadlines and notes.

Handling a Deal
Change Deals info ever time you want, for example, progress status: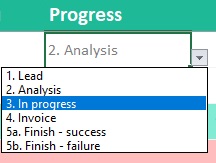 When work is done, create an invoice
Goto Invoice template sheet, fill it with your data, and print (pdf)
Handle invoice status
Just enter the invoice date and number and due date.
Balance Due is calculated, but you can modify it anyway.
Update Invoice Status teg correct sales pipeline.

Use the Dashboard and continue your work
After recording some deals and contacts, you should see what you have to do in the next 7 days.
It literally checks for your appointments and deadlines.
Settings Sheet
You can use it when you exactly know what you're doing
Content:
Excel file compatible with Excel 2010 and higher (+ sample template)
Link to Google Sheets (Premium, Enterprise)
Discount code -8% (Standard)
Discount code -12% (Premium, Enterprise)