Payroll Calculator – what's inside our spreadsheet?
Payroll Calculator to simplify your work.
Let our Payroll Calculator simplify your work by automating tax calculation and generating pay stubs!
The Payroll Calculator consists of:
Settings
Employee Information
Payroll (see below)
Remittance Summary (Total)
Remittance Summary (by Employee)
Pay Stubs
Payroll 10 versions. Unless otherwise stated, salary = hourly rate x hours, and taxes = gross pay x % tax:
⚑ US
⚊Weekly
⚊Bi-Weekly
⚊Monthly
⚊Weekly Input, Bi-Weekly Pay Stub
⚊Weekly (Google Sheets)
⚑ Canada
⚊Bi-Weekly
⚊Bi-Weekly fixed Salary
⚊Bi-Weekly fixed Tax
⚊Monthly
⚑ Irish
⚊Monthly
Each tab does its job and helps you manage your payroll. Payroll also includes advanced features and dynamic drop-down lists that automate your work.

Employee Information
The first task is to collect information from your employees. You can do that with Form W-4. After that provide data like hourly wage, taxes: state tax, federal income, social security, Medicare, and insurance deductions. You need all of this information to properly run and distribute payroll. Also, you can set your billing year and currency.

There are 3 types of spreadsheets: weekly, bi-weekly, and monthly.
All sheets contain tables where you can record regular working hours, overtime, and sick/vacation hours. You can also set an overtime rate and deductions for each employee. As a result, the spreadsheet calculates gross pay, net pay, and taxes for you.
Monthly & Weekly Payroll
Regular & Overtime Hours
Overtime normally begins after an employee has worked 40 hours in a week. Overtime is paid at one and a half times the normal rate of pay. However, you can set the overtime hours and the overtime rate.
Taxes
Our spreadsheet handles taxes such as State Tax, Federal Income, Social Security, and Medicare.
Deductions
A deduction is any money you subtract from an employee's total wages.
Pay Stubs in Payroll Calculator Spreadsheet
To make it easier for you, we have prepared a Pay Stubs sheet – ready to print or generate PDF. It contains all information about worked hours, earnings, deductions, and taxes.
How it's working? All you have to do is choose Month / Week and then Employee. The formulas will handle the rest.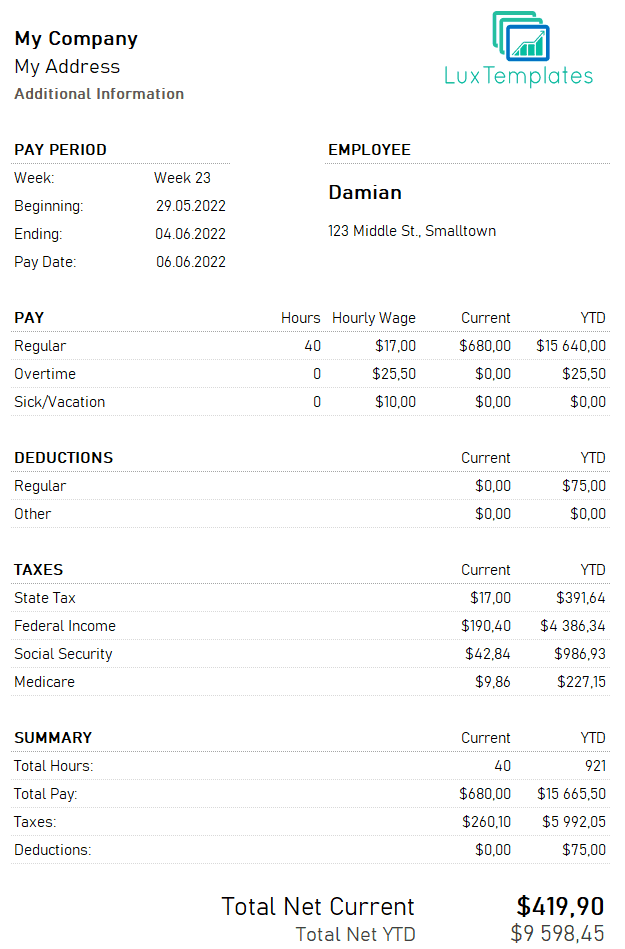 Remittance Records – Great for Federal 941 reporting purposes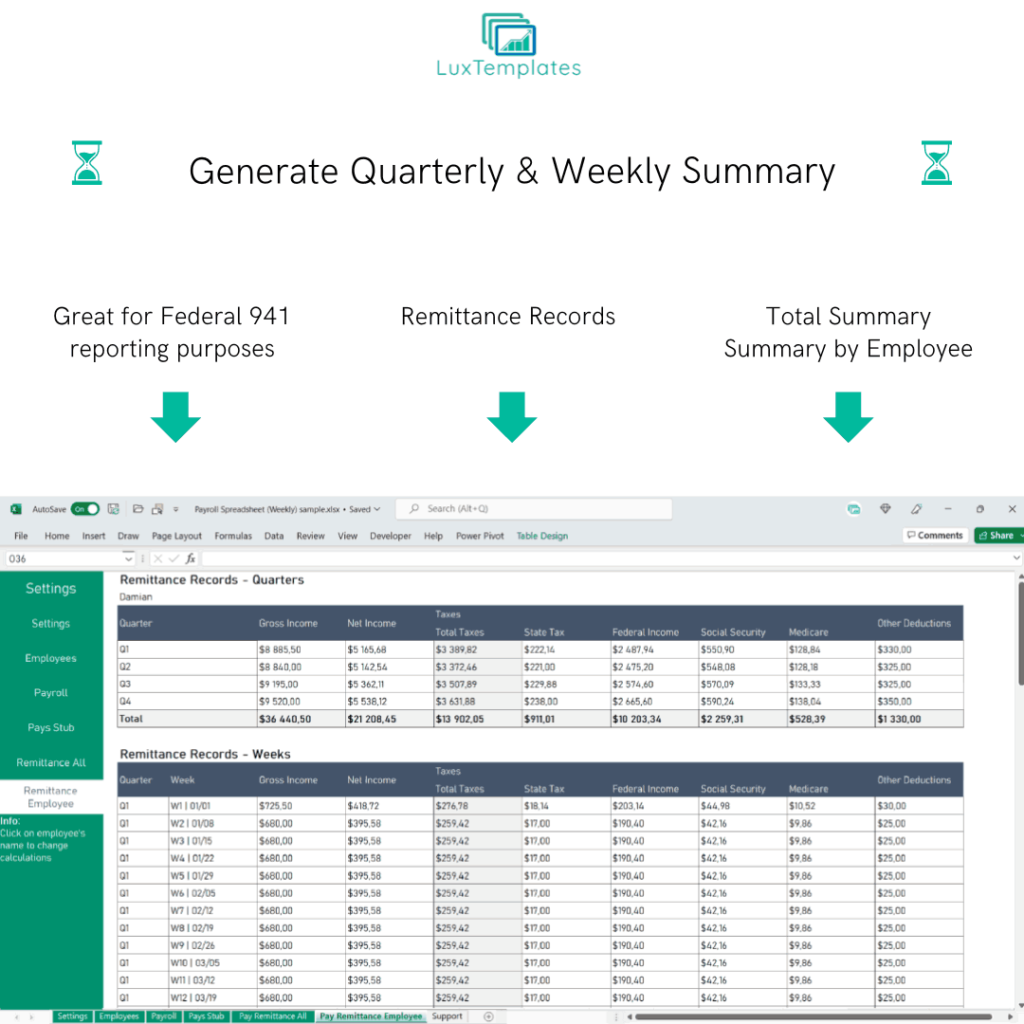 Contents
Excel Spreadsheet – 9 versions of Payroll (xlsx file extension)
Google Sheets – 1 version of Payroll
Also, would you like to manage projects or track your sales?
Compatible
Excel 2013, 2016, 2019, 365, Google Sheets