One spreadsheet for managing your finances
Managing finances can be a challenge for any small business owner. Financial management is not necessarily difficult, it just requires diligence and commitment.
Our Advanced Company Finance Spreadsheet will guide you by the hand of budgeting and controlling your business
Creating a budget can help you keep your finances organized
Often, the reason your small business is successful is because of the skills you bring to making your product or providing your service.
Dashboards to control your company: Cashflow, Budget tracker, Payable & Receivable
Previous
Next
Each of the dashboards serves a different purpose. Advanced Company Finance Management includes 4 different dashboards.
Cashflow – The basic dashboard to control the condition of the company. Control your running balance, check expenses and income, and compare the result with the previous year.
Budget Tracker – Control your sales goals and budget. There is no better method for rapid growth!
Payable & Receivable – pay your suppliers on time and expect the same from your customers. This dashboard will allow you to control the accounts
Income Statement with "What if" Analysis
The income statement is the basic document to control a company's income and expenditures. Also, it shows the effectiveness of the business strategies.
What's innovative here is that we added a 3-year forecast to the Income statement. Not only that, the forecast is also a sensitivity analysis.
This means you can check what financial result your business will achieve by modifying 3 variables: Revenue, Cost of Goods Sold, Operating Expenses.
What if analysis answers questions like What Earning Before Tax (EBT) will be in the next year if sales increase by 8% and COGS also increase by 3%?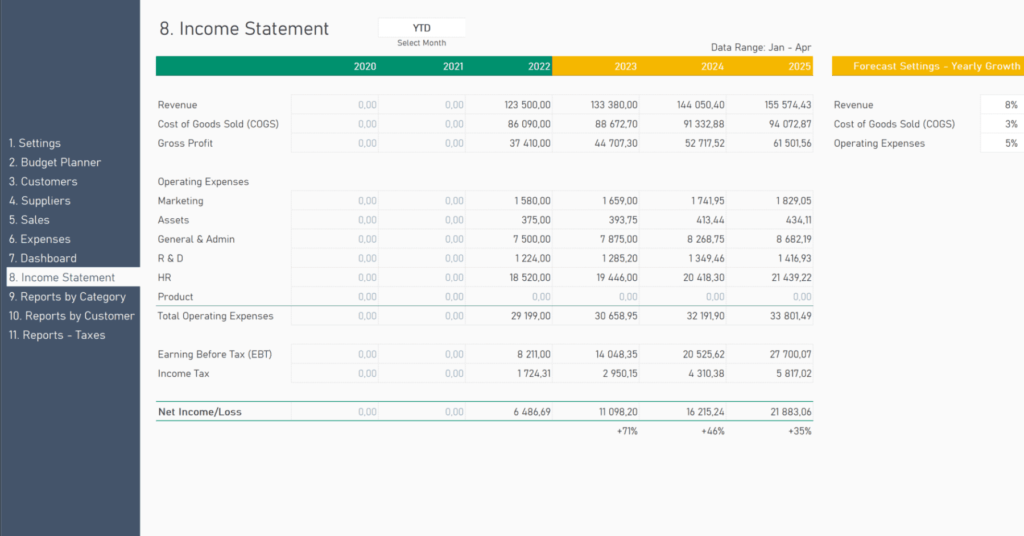 How to effectively create a company budget?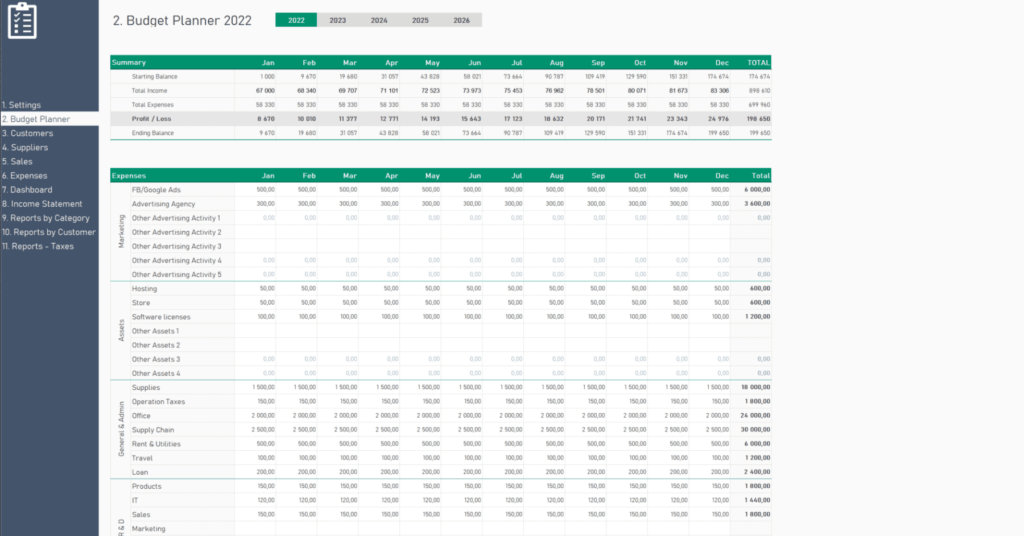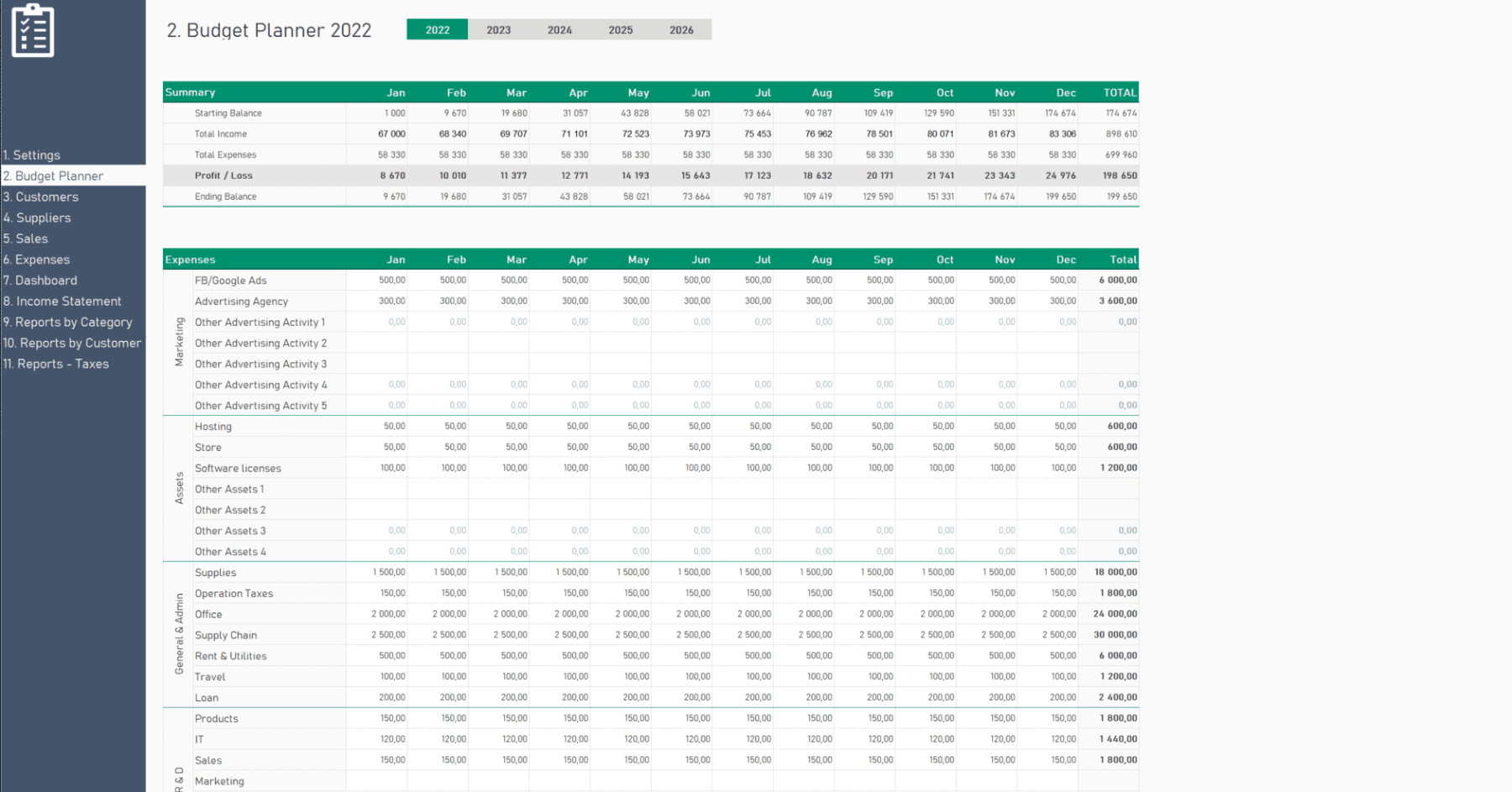 The standard budgeting consists of:
Analyze costs
Estimate revenue
Set spending goals
Our workbook is designed to make it easier for you to work on your budget. You can define your cost categories or use the ones prepared by us.
Advanced formulas will guide you and, as a result, prepare the perfect annual budget
Does it make sense to set sales goals?
The workbook provides space for sales targets that you define by categories or products.
Make sure the goals you set are SMART.
Specific (simple, sensible, significant).
Measurable (meaningful, motivating).
Achievable (agreed, attainable).
Relevant (reasonable, realistic and resourced, results-based).
Time-bound (time-based, time-limited, time/cost limited, timely, time-sensitive)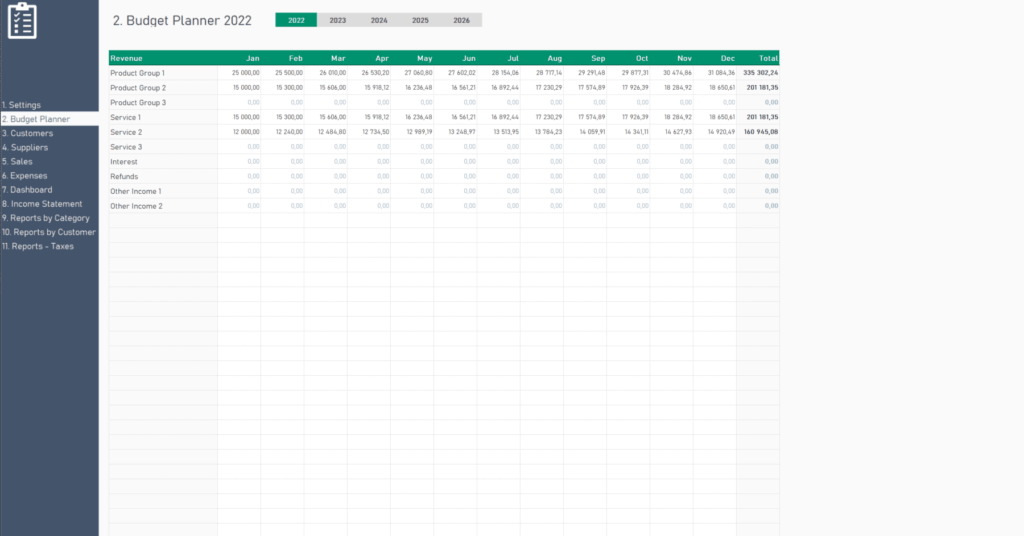 Sales & Expense registers as a core of company finance management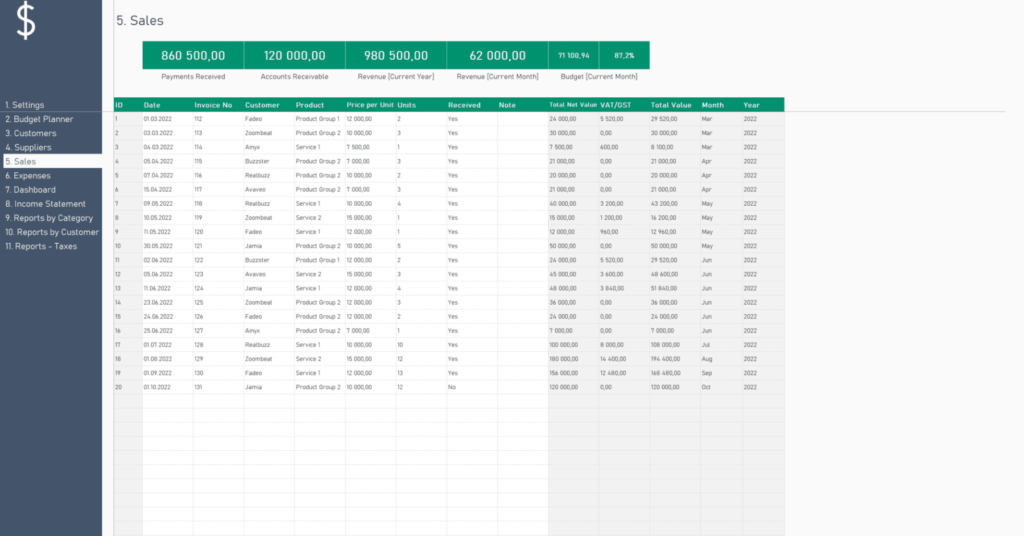 The workbook has 2 basic registers: Sales and Expenses.
The tables contain such columns as Customer / Supplier, Product, Price, Vat / Gst, and others that will automatically calculate the result for you.
Moreover, we implement a collapsible sidebar panel with filters to make it easy to filter the tables.
Set of Reports to control the entire business
If that was not enough, Advanced Financial Management includes a report suite to further control its operational processes. We have reports broken down by clients, categories, income, and costs, as well as tax reports.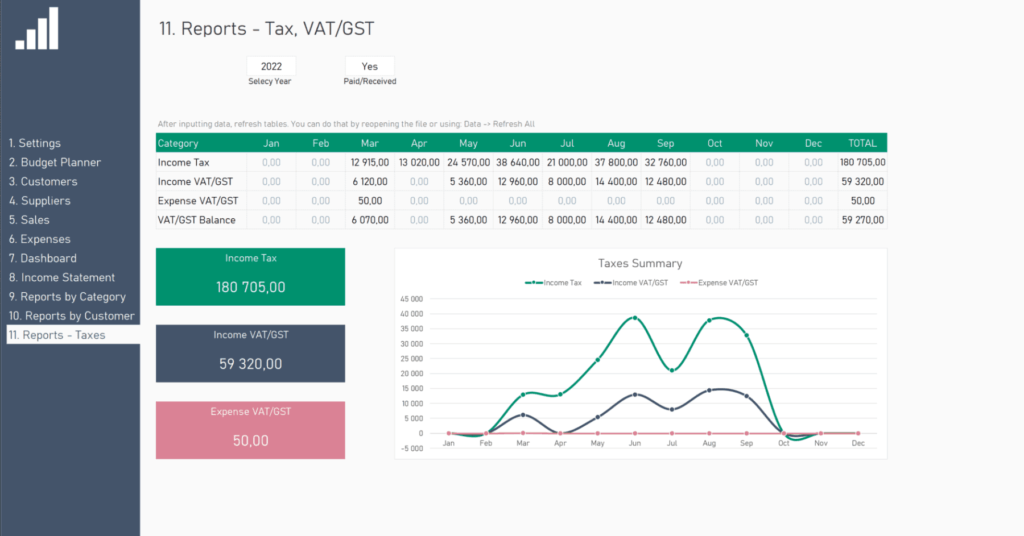 Contents
Excel Spreadsheet (xlsx file) – ready to use file
Sample data – to show you how it looks like with some real data
Compatible with Excel 2013, 2016, 2019, 365
Check other spreadsheets that will take your sheets to the next level