Monthly Employee Attendance Tracker & Planner
The Employee Attendance Tracker & Planner is an ideal tool for teams and managers. The product combines modern design with the functionality of Excel.
The intuitive interface allows for immediate implementation, just place the file in a shared folder or Google Sheets and use it, even in the mobile version.
Hence, the Excel template is created to be perfectly suited for planning holidays, presence and absence, work organization of the team, or the entire company. The application makes it easy for the manager to monitor the team when users only register their absences and holidays.
In Summary, use your attendance planner to organize your work quick and easy
Effective team management requires a good organization of work. So why not use high tech tools? Our product is ideally suited as an employee attendance improvement plan or simply as a tracking template in excel.
Best for:
Teams
Managers (all companies)
Main features:
No VBA code/scripts!
Clear layout for users and managers
Daily & Monthly tracker
Automatically counting days
Easy to track
Statistics of the presence of each employee
Full control over the team
Attendance Reports
Printable
Secure payment (PayPal or card)
Instant Download!
No usage fees
A fully editable file (in Premium, Enterprise version)
How to use an Employee Attendance Tracker in Excel?
1. Choose your Year in the "Info" sheet and next you can delete or change the LuxTemplates logo.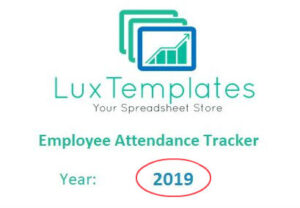 2. Just type in your employees into Planner's tab
3. Define days off for each employee
4. Type "H" for Holiday, "S" for other days off, eg. Sick

5. Below Planner you've got hyperlinks to each month

6. Control Attendance in Planner tab or Statistics tab.

Track working days, sick days, holidays, and the percentage of days at work.
This spreadsheet can be used as an Employee Attendance Calendar (or check our other product flexible calendars -it's free and printable)
Content:
Excel file compatible with Excel 2010 and higher (clean & with sample data)
Direct link to Google Drive to Google Sheets (Premium, Enterprise)
Discount code -8% (Standard)
Discount code -12% (Premium, Enterprise)