Excel CRM Pro Spreadsheet & Project Management Automation
Can a business run without efficient sales and task management? In order to help you manage more effectively, our team created a new CRM spreadsheet. We put so much automation and modules into one Excel template that it turned into a powerful time-saving system that gives you full insight into your business.
The system includes 12 connected with each other smart sheets: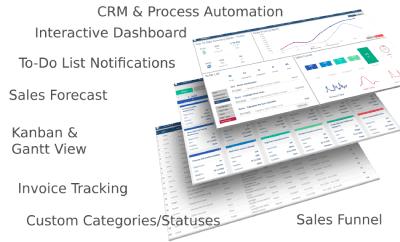 KPI Dashboard,
Kanban Board,
To-Do List,
Gantt Chart,
Reports,
Add a Record View
Deals,
Tasks,
Company,
Invoices,
Contact List, Settings.
Perfect spreadsheet for small businesses and freelancers!
Are you thinking of a more advanced tool? Check out our new Sales CRM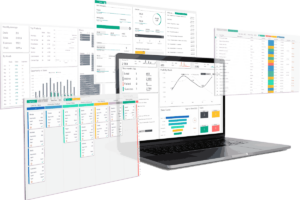 Check Sales CRM – Innovative Spreadsheet now!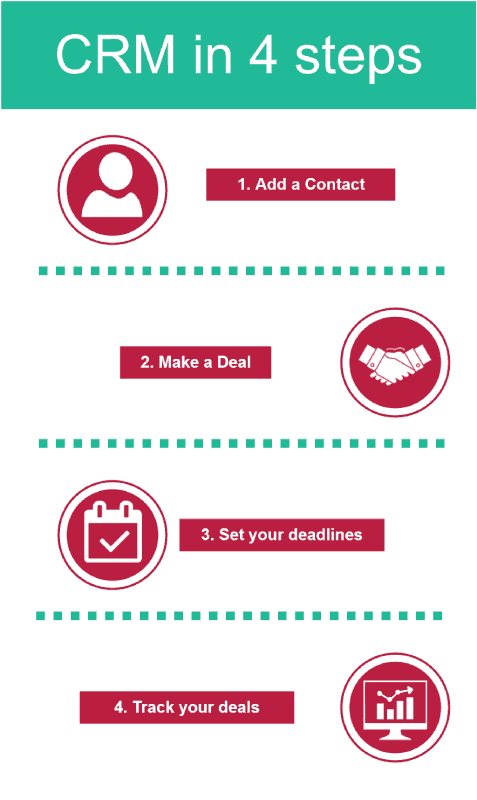 How does Excel CRM Pro improve the quality of your sales or project management?
1. Add a new contact or customer
And then add relevant information about the client that will allow you to communicate with him more efficiently. Use contact lists and customer database
2. Add a Deal
Connect sales deals with customers and contact lists. Create tasks and assign them to your employees.
3. Set deadlines with a handy date picker
Manage your Deals using the dynamic Gantt chart or Kanban Board view, modify tasks, make corrections to your process, and finally, you will increase the quality of sales
4. Track your deals
Use the Dashboard sheet, Reports, and Analysis tab, as well as advanced filters that won't let you miss the opportunity. Win sales and customers this way!
Main features:
Customer Relations Management modules: Deals, Tasks, Customers/Suppliers, Contact list, Invoices
Work automation and sales support
Interactive Dashboard showing insights into your projects and sales
To-Do List
Sales funnel
Sales forecast
Invoice tracking
Reports & Analysis – Fully Editable
Gantt View – manage projects and deals by changing the start and deadlines of your deals
Kanban – a unique board view, where you can assign a deal/task to another user or change the status
Editable category lists
Speed & Efficiency ensured by professional VBA coding
KPI Dashboard
Advanced Dashboard includes many charts, sales forecast, sales funnel, Year to Date, Year over Year, and many other indicators, all in one place!
Advanced CRM module (Deals, Tasks, Company, Contacts)
You won't get lost in the maze of data and unconnected tables. Our tables are linked together – and no, not with slow formulas. It's not a simple Excel sheet since we've applied our unique coding solution here. When choosing a deal or contact, the system expands a drop-down list – there is no chance to make a mistake and mix up contacts or deals.
You can also add new records using the input form, which saves your time and guides you through the process.
Interactive/Dynamic Kanban
A unique board solution that isn't only used to view deals, but also to interact with them. Use this view to change the status of a task or deal, assign a user, and update a deadline.
Gantt Timeline
Find yourself in a lot of deadlines and dependencies. Our spreadsheet is perfect for planning and verifying that everything has been done according to plan.
Invoice Tracker
What would be a good CRM template without tracking invoices? In Excel CRM Pro, there is an Invoicing module not only to help you track & store invoices but also automates the calculation of income, cost, and net value for dashboard & reports. All you have to do is link the invoice to a deal. The rest of the operations will be performed by the system! You can turn off automatic calculation in the settings and enjoy manual input of cost and profit in the deals view.
To-do List
This pleasant module won't let you forget about important deadlines for tasks, opportunities, and invoice payments. If you somehow missed the deadline while browsing the lists views, kanban board, or Gantt chart, the dashboard, and the ToDo list show the next tasks.
Settings
There are prepared various lists to help you better describe your deals and contacts. However, you can modify these lists, add your custom categories, change your currency, or just upgrade your account.
Requirements:
Windows & Excel 2013, 2016, 2019, 365