Car lease calculator vs loan calculator
We have prepared a calculator in order to compare the cost of leasing with the cost of a loan for buying a car. Use our Spreadsheet to see what is more profitable for you.
How does the car lease & loan calculator work?
You need to provide several financial figures. As the basic information, provide the retail price of the car, sales tax, and interest.

Then complete the Lease and Loan details. Before entering the data into Excel, check:
How long do you take out the loan/leasing? (months)
What value is for a down payment?
What is the residual value of the car after leasing or for how much you plan to sell the car after paying off the loan?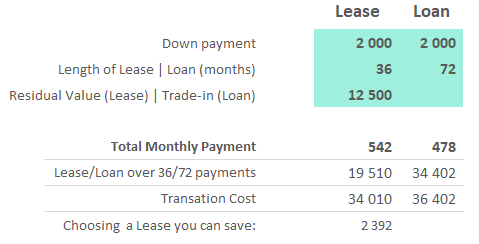 As a result, you get information about what is cheaper, Leasing or Loan, as well as how much you will save by choosing one of the options.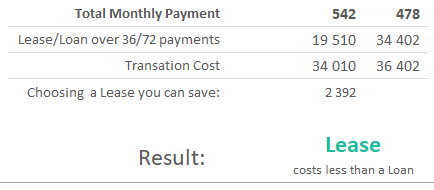 Features:
Lease vs Loan comparison
Lease info with trade-in
Pie chart with Lease monthly charge
Lease taxation
Lease price and pre-tax monthly payment
Loan info
Cost components of the loan: Interest and Principal
Bar charts for Loan balance and cost components
Contents:
Excel 2010 and newer
Info with 8% Discount coupon (with Modifiable package)
---
Lease and Loan sum up
Lease
What?
A lease is a use of a car for a fixed period of time at an agreed amount of money for the lease.
At the end of a lease's term, the lessee must either return the vehicle to or buy it from the owner. The end of lease price is usually agreed upon when the lease is signed.
Why?
Spread you repayments over X months
Pay for using the car
Leased cars can be written off as a business expense
Don't worry about the maintenance (most repairs are covered by a manufacturer's warranty)
Lease a car for 2-4 years and after that purchase this car or lease a new car
Cost components
Depreciation – covers the depreciation cost over the lease term

Sales tax – local sales tax on the down payment and residual value
Lease fee
---
Loan
What?
A loan is a common method of buying a car. You're borrowing the money and then paying it off in installments.
Technically, the dealer sells a car to a bank and you as a borrower, pay off the bank.
To determine what you can afford, check your credit score.
Why?
Spread you repayments over X months
The car is yours all the time
Low-interest rates
You owe just as much a car is worth (+interest), without fees
You can take additional GAP insurance (for repairs)
Cost components
Interest Rate
Loan Cost– the amount of money you're borrowing
---
Try more of our calculators! Goodwill Impairment Calculator or full Financial Statement Analysis – general business model