Cash Flow Financial Statement
For Excel and Google Sheets

It doesn't matter if you run a small company, manage a team in a corporation, or are just planning to open a business. Each of us faces the problem of estimating the costs of business and whether if it brings profit.
The first step will be to estimate the operating costs and the costs of the goods sold. It's all about money and our expenditures.
Then set up the prices of products and services, estimate sales volume and finally, we have a Revenue.
Sounds ordinary? Definitely. That's why we provide a more advanced Spreadsheet. So what do we offer? Find out below.
What if your
sales go up

and

costs go down

?

The above is the sensitivity analysis. Let's say, when planning finance you know your sales can increase by 10% if you increase your expenditure by 15%, it's just an example. Ok and so what? With sensitivity analysis forecasting future profits is a piece of cake!

Check out various scenarios and verify your future profit. For example, what if you lower the price and at the same time increase the cost (e.g. for marketing) with the current sales volume? How will your budget react, what will the financial result be? That's right, you don't know, neither me, nobody knows. Notwithstanding, we implemented this solution in our product. Hence, you can be the one, who knows the answer!
ROI, CoGS, EBIT, it is necessary?
As befits a serious and professional financial document, it would be nice if we got some financial indicators after we calculated our costs, sales, and stuff.
These indicators are Return on Investment (ROI), i.e. how much revenue is generated by $ 1. The next indicator- EBIT, in other words, EBIT is how much we have earned relative to the operating costs incurred.
In our Cash Flow Statement, we have included financial figures as above and many other indicators to inform you about your business condition.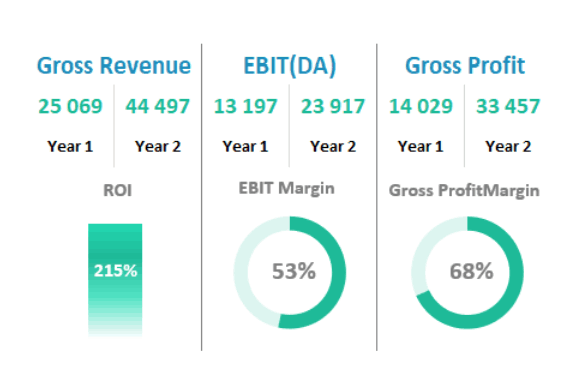 I thougt maybe you're looking for something to create a Budget. So take a look at this product [Click here].
Let's sum up
Instead of never-ending searching for free templates, take Cash flow and other financial stuff in your hands, look through the key features of our product and order it.
Main features:
No VBA scripts!
Sensitivity analysis!
Simple & Clever formulas
Modern and clear design
Financial Statement for all types of companies
ROI, EBIT, and other financial indicators
Budget planner
Revenue with details (Gross Revenue, Cost of Sales, Gross Profit)
Operating Cost without secrets!
Printable sheets
Instant Download (Excel) and Instant Access (Google Sheets)
No usage fees
A fully editable file (Modifiable and Business license)
Content:
Excel file compatible with Excel 2010 and higher (and with sample data)
Direct link to Google Drive to Google Sheets (Modifiable, Business)
Discount code -8% (Single User)
Discount code -12% (Modifiable, Business)
Manual (pdf)
Maybe you're looking for E-Commerce Financial Statement?